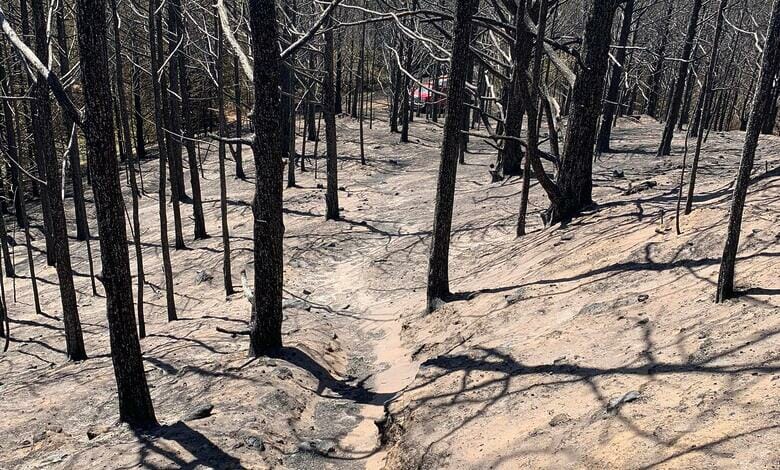 Jefferson County Commissioners Praise Fire Departments, Public
By Gordon Hopkins
John McKee, Jefferson and Saline County Emergency Manager, and Ken Kause, Fairbury Rural Fire Chief, gave an update on the Rock Creek Station Fire to the Jefferson County Commissioners at a meeting on Tuesday, April 19, 2023.
Called "one of the largest wildfires in years" by emergency management, the wildfire burned an estimated 1,800 acres but, thanks to the efforts of firefighters, no homes were destroyed and the park's historical buildings were saved, though the fire came within feet of the structures. Crews dowsed them in fire-resistant foam prior to the fire reaching the historical park grounds.
Numerous local fire departments as well as various state agencies were involved in the effort to combat the blaze and McKee indicated the numbers of personnel that participated were not yet available.
Commissioner Mark Schoenrock said, "There are a number of people who would have lost their homes if it wasn't for this great effort."
Although every effort was made to minimize the risk to personnel battling the blaze, going into a wildfire is always going to be a dangerous proposition. High winds were a major threat, particularly when the winds changed direction, which happened multiple times. Krause talked about how firefighters had to adapt their strategy when winds changed direction, such as protecting the historical structures.
"I was on the line where the buildings were and we probably tested ourselves there," said Krause. "The wind changed on us and probably our risk was worth the reward. But we held it and no one got hurt."
"We were in a pretty clear area because the grass was short," said Krause. "We're trying to get a back-burn going and the winds switched on us just as we lit our back-burn. And so that put us at really high risk."
A back-burn is controlled fire intended to eliminate the fuel in the path of a wildfire. Two months before, local firefighters from Fairbury Rural Fire, Plymouth Fire and Rescue, Diller Fire & Rescue, Wymore Fire Department, Clatonia Fire Department, Nebraska Game and Parks and Sutton Volunteer Fire Department all participated in Basic Wildland Firefighter training, which included field exercises at Rock Creek Station.
In addition to firefighters, commissioners also praised those members of the community that supported the effort with donations and other assistance. Schoenrock expressed a desire to sent letters of thanks to all the businesses and individuals that helped out.
"I know quite a few like farmers that helped disc fields," said Schoenrock. "And then all the contributions that came in from our local businesses. We just wanted to make sure, to the best of our ability, that we can identify them and we can give them a little note of thanks."
Krause suggested that might be impractical. "I think that's going to be real difficult. I would do a general (letter), because we'll miss somebody."
Krause noted a number donations were of dropped off at the fire station anonymously.
Krause also pointed out that no food was purchased by NEMA (Nebraska Emergency Management Agency). All food was donated. In fact, there was enough food and water that some could be shared with other counties continue to battle their own wildfires.
On Thursday, April 13, Governor Jim Pillen issued a statewide state of emergency due to ongoing wildfires across Nebraska. Pillen also issued an executive order banning all open burning in Nebraska. Originally set to expire on Sunday, April 16, the ban was extended until April 20.
Twinrivers