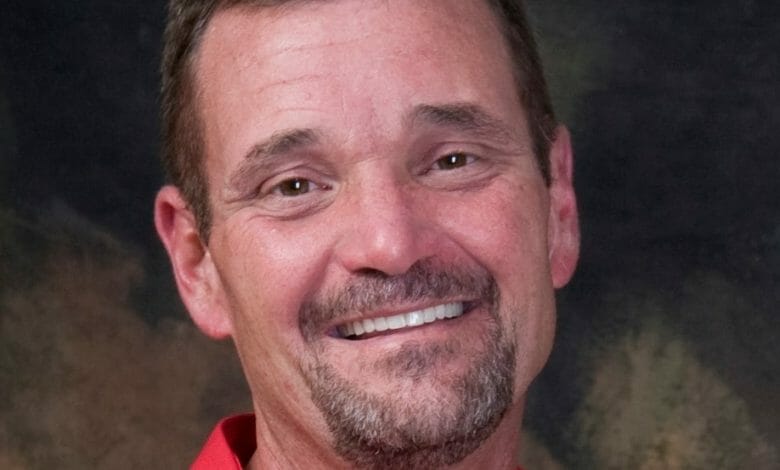 Aaron Wayne Schultis, 58, of Diller, passed away peacefully in his sleep on April 12th, 2023. He was born on January 31st, 1965 to Wayne Schultis and Linda Beasley. Growing up on a farm, he developed a love for animals and agriculture, which stayed with him throughout his life. Aaron attended Diller High School, graduating in 1983. He spent some time at both UNL and KSU before graduating from Reisch Auction College in 1985. He obtained his real estate license in 1986 and his broker's license in 1992. For over 35 years, he dedicated himself to the real estate and auction business, where he was known for his exceptional customer service and ability to build relationships with his clients.
In 1994, Aaron met Lisa Pollman at an auction. He told her later that he saw a beautiful girl in a blue shirt and wanted to meet her. He offered to help her load and unload the items she had purchased, but she declined as she already had help lined-up. Nevertheless, even though they were both shy, they started dating, fell in love, and married September 2nd, 1995. They raised 4 loving children: Justin, Jessa, Katie, and Adam.
Aaron was a devoted husband and father who loved spending time with his family. He enjoyed taking the kids fishing, helping them prepare their animals for the fair, and making every holiday special. He helped plan fun family vacations every year. He strived and succeeded in making his family happy and in creating wonderful memories. As his children grew, he delighted in each of their accomplishments. He was so proud of each of them. When his oldest son Justin married Heather Furrow, he welcomed her into the family and thought she was the best daughter-in-law ever. Aaron was also a loving grandfather to Elle and Bennett, who brought him great joy. He loved taking them to the park or just snuggling with them in his favorite recliner.
In addition to his professional and family accomplishments, Aaron was known for his warm personality, sense of humor, kindness, and wit. He had a way of making everyone feel at ease and cared for. Aaron was known for finding unique items to decorate his home with. He loved listening to jazz music. He was also a master planner, often pulling off extravagant family dinners with little notice.
Aaron is survived by his wife, Lisa Schultis, children Justin (Heather) of Fairbury, Jessa of Lincoln, Katie of Omaha, and Adam of Kearney, his father Wayne Schultis of Fairbury, sister Amy (Mike) Fachman of Fremont, and grandchildren Elle and Bennett Schultis of Fairbury. He is also survived by his in-laws Roger & Joyce Pollman of Wymore, Debra (Ed) Jaros, of Wymore, Julie (Jim) Kavanaugh of Greeley, CO, Mark (Shelley) Pollman of Wymore, Roger A. (Pam) Pollman of Fairbury, numerous aunts, uncles, cousins, nieces, and nephews. Aaron was preceded in death by his mother, Linda Schultis, grandparents, and uncles Michael, Thomas, and Steven Beasley.
A service celebrating Aaron's life will be held on Saturday, April 22nd, at 11:00 AM at the First Baptist Church in Fairbury. Lunch following at the Fairbury Elks Club. The family invites all who knew and loved Aaron to attend. Arrangements are being handled by Gerdes-Meyer Funeral Home. You may share your memories of Aaron and leave condolences for the family at www.gerdesmeyerfh.com.
Twinrivers