Sports
Baseball Team Wins Game With 50 Points Scored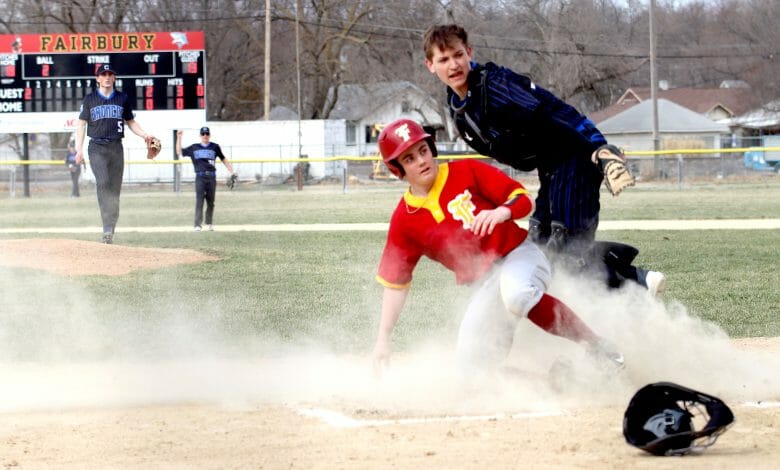 No it is not a box score error, and no, readers, you're not reading a score from football. It was a day of baseball that happened within and around the states. On April 11 at Louisville the Jeffs faced Louisville. By the end of the game when the smoke cleared Fairbury pulled away with the 30-20 victory against Louisville.

It was a roller-coaster of a game that had Fairbury starting in the hole down 0-1 by end of the first inning.
Fairbury was unable to get on the board until the third inning that Fairbury took the lead 3-1 and held onto that lead into the bottom of the fifth when Louisville would score six runs taking the lead 3-8. Fairbury answered with two runs in the sixth and held their opponents to zero runs breaking back into the lead 5-8.
Then in the seventh Fairbury was able to come away with 10 runs taking a 15-8 lead, but would give up seven runs that would even things up at 15 heading into the eighth inning. Tied at 15-15 the next two innings were important, each team's effort mirrored their counterparts as both teams would score four runs in the eighth and then one run in the ninth forcing the extra innings.
Somehow after all that the Jeffs had been through, the 10th inning brought a new life into them as Fairbury would go on to score 10 runs breaking the tie to take a resounding lead 30-20, and holding their opponent to no runs in the tenth.

Multiple Jeffs coming away with multiple hits, and RBI being brought in, the hitting parade was led by Brendon Runge going five for eight with two doubles, one triple, two stolen bases, and six RBI. A trio of Jeffs were able to come away with three hits each as it was Auggie Judd, and Jakolbe Atkins going three for six, each stealing two bases while Atkins brought in three RBI. Blayne Schelbitzki was able to go three for seven to lead the team with seven RBI and had two stolen bases as well. Cj Goeking and Konrad Kuzelka each had two hits to contribute, Goeking had three RBI, Kuzelka had two RBI and two stolen bases.

Though no hits for him, Aldo Ramos was a big contributor to the runs as he had three RBI driven in as well. Defensively the Jeffs had to work through four different pitchers to get through this game.
Dom Joe started the game going five innings, allowing eight runs on eight hits while striking out five.
Auggie Judd would pitch one inning in relief, and the winning credit would go to Jameson Runge who would come in to pitch four innings, allowing five runs on seven hits, with two talks and three strikeouts.
Two days later on April 13 Fairbury would be going against Twin River. Unfortunately, losing the lead early was a tough hole to dig out of that the Jeffs weren't able to as they would give a good fight but lose 2-9.
Finally back home on April 14 Fairbury would be hosting Crete.
Despite finding themselves in a 0-9 hole, Fairbury would give a great effort, but would lose 9-13.
Fairbury dropped their record to 4-10 and will be gearing up for the road next week as they take on Auburn Monday, April 24.
Twinrivers