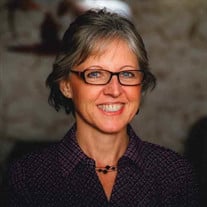 Dawn Lynn Hynek was born in Fairbury, Nebraska on October 8, 1965 to Larry & Shirley (Schielke) Haake. She died at her home in Western, Nebraska on October 8, 2022 at the age of 57 years after a 9 ½ year battle with brain cancer.
Dawn was baptized, confirmed and a member of St. John's Lutheran Church in Daykin, Nebraska. She attended school in Daykin and graduated from Meridian with the class of 1983. Dawn married Brad Hynek in 1983 and to this union 3 children were born. They resided in Endicott, Nebraska for 13 years and then moved 3 times before settling back in Western, Nebraska. Dawn worked for banks and really enjoyed working for the vet clinic and Crete Carrier Corp where she worked in Drug & Alcohol Safety. Over the years, if Brad needed help on the farm she was there, and she also maintained the books for their trucking company.
Dawn enjoyed helping and watching her kids with livestock in 4-H and FFA. She also enjoyed watching her grandkids as they began showing livestock. Her grandkids were so important to her, and she treasured every moment she got to spend with them. She also enjoyed the family summer cookout each summer, which allowed her to spend the entire day with her children and grandchildren.
Dawn was preceded in death by her parents Larry & Shirley Haake; son-in-law Justin Kunc; and grandson Levi.
Dawn is survived by husband Brad of Western, Nebraska; daughter and son-in-law Amanda and Joshua Becker of Beaver City, Nebraska; sons and daughters-in-law Colby & Jessica Hynek of Hebron, Nebraska and Ethan & Jenna Hynek of Seldon, Kansas; 9 grandchildren; brothers and sisters-in-law Rex & Tammy Haake of Firth, Nebraska, Terry & Vickie Haake of Beatrice, Nebraska and Kevin & Tracy Haake of Western, Nebraska; brother-in-law and sister-in-law Mick & Diane Hynek of Endicott, Nebraska; and father-in-law and mother-in-law Howard & Pauline Hynek of Endicott, Nebraska.
A Funeral Service for Dawn was held on Tuesday, October 11, 2022 at 10:30 a.m. at St. John Lutheran Church in Daykin. Pastors Patti Meyer and Ron Drury presided over the Funeral Service.

The recorded selections "Waymaker," "Holy Water," and "Old Time Rock And Roll" were played during the Funeral Service.

Pallbearers included Colby Hynek, Ethan Hynek, Joshua Becker, Rex Haake, Terry Haake, and Kevin Haake. Honorary pallbearers included Mike Haake, Chris Haake, Don Haake, and Marci Haake.
A Graveside Service was held in the St. John Lutheran Cemetery following the Funeral Service.
Farmer & Son Funeral Home was in care of the arrangements and online condolences can be left at www.farmerandsonfuneralhome.com
Memorials are suggested to the St. John Lutheran Church.
Twinrivers