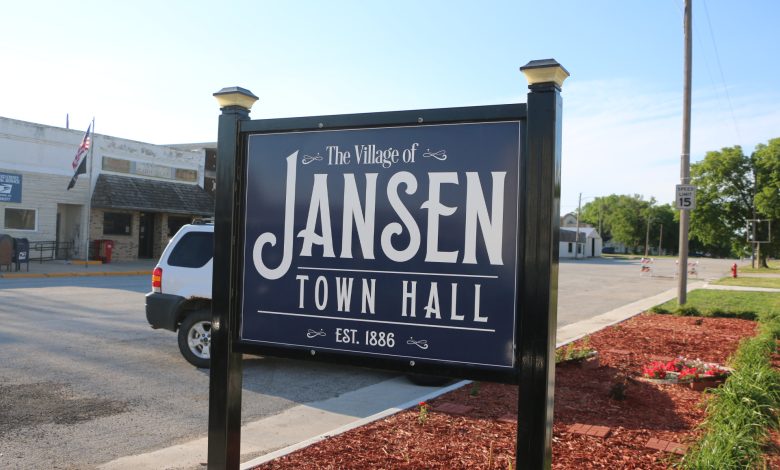 By FJN Staff
There was no treasurer's report presented at the last meeting of the Village Board of Jansen. Board member Matthew Leatherwood sited this as just one examples of the board's failure to complete its duties.

At the meeting on Monday, April 10, 2023, bills were presented for payment. However, upon reviewing the bills and noting there was no treasurer's report, Leatherwood said, "You guys can't continue to do things like this. This is…we've got no totals on the bills. We don't know what they're for. This…you're asking me to make a decision on this versus an actual treasurer's report."
Board member Keisha Eldridge said the actual bills were included for board members to review.
Leatherwood said, "I'm not gonna approve expenditures based on this. This is crazy. You don't even have a payroll total for people."

Leatherwood pointed out that his is only one vote and the other board members could still vote to approve payments. However, no other board members made a motion. After further discussion, Leatherwood made a motion to approve payment of bills himself, "We can at least pay bills so we can continue to function as a village."

The motion passed five to one, with Leatherwood voting against his own motion.
State law requires the village to complete treasurer's report, per Nebraska Revised Statute 19-1101.
FJN reached out to Leatherwood after the meeting. He said, "What we got was a list from Quickbooks of 'unpaid bills.' There were no totals. Payroll was incomplete and there was no total on income items. There was information compiled that could result in a decision about paying bills, but nowhere near what I'd consider a report from the treasury."

Water Bills
The last round of water bills were mailed out late, according to Leatherwood. He also pointed out that usage has not been included. He asked, "Is there a plan for the water bills this month? And is it going to include usage? As much as I love not getting charged usage, we're giving away water. We're giving away water outside the resolution we passed, which was $1.75."
According to Eldridge, meters have been read every month, "We have the readings for each month."
The board agreed to include usage in the next round of water bills but not to go back and ask customers for previously unbilled usage. Leatherwood said, "I don't think it's fair to back up and say, 'Sorry, we didn't have our crap together. So we're gonna now charge you all the usage from the last two months as well.'"
Other Duties
Leatherwood noted other duties are also not being completed, noting that preparations for the meeting only happened the day of the meeting. He also told FJN, "It should be noted we also have not published minutes to the paper since 2/1/23. Big Open Meetings violation."

Access to Files
While the Jansen Village Board hired a new clerk and treasurer over a month ago, she has only received what Leatherwood described, "sporadic training." Linda Seeley was hired on March 13 of this year.
Leatherwood did not blame Seeley for the work that has not been done, but rather the fact that she has not yet been fully trained. Leatherwood told the former chair, Kesha Eldridge, and the current chair, Joyce Ambrose, "And the excuse is that you have a job."
Leatherwood previously worked as clerk and treasurer for Jansen and said he has offered to help train Seeley.
He said, "And how many times have I told you in the last two months that I could help but you guys are seeing to it that I don't get to help."
However, Leatherwood does not have access to the village hall as he still does not have a key. Leatherwood was elected to the board at the end of 2022.
FJN reached out to village attorney Gregory Kratz and asked about the key. He said Ambrose has copies of keys to the village hall for every board member. At the meeting, Seeley was given a key but Leatherwood was not.

According to Leatherwood, he has been requesting access to village files, such as minutes, contracts and billing, for several months. He told FJN he does not know if the files are in the village hall. Regina Russell, a prior clerk and treasurer who was let go in 2022, wrote in an unsent letter to Eldridge, "And on my last day of work, you began cleaning out your desk and took multiple files from your desk home with you."
Leatherwood told FJN, "Meanwhile, it's been several weeks now since I brought this kind of thing to the attention of the county attorney with no response, even after a follow-up."
FJN reached out to Kratz and Ambrose to ask about the files. Kratz said he knows nothing about any missing files. He did not respond to questions about the treasurer's report. Ambrose has yet to respond.
At the meeting, Leatherwood said, "That stuff does not need to be at your house. You can't take village property to your house to work out of unless the board says, 'You know what? Let's say it's okay for Kesha to work at home.' We have a village office down there. That's where the training needs to happen. That's where the work needs to happen. The whole purpose of having a clerk treasurer is so that the load comes off of you guys for this stuff and yet we're not helping her get there at all. This is BS."
Eldridge responded, "Duly noted."
Twinrivers