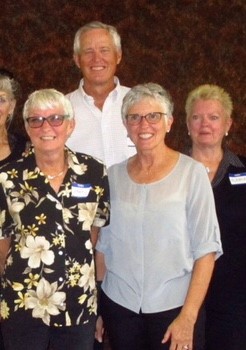 Jolene Jeniece Sims (Henke), 70, died on Sept. 11 after falling in her home in Fairbury. She was born in Lincoln, NE, but her family moved to Colorado when she was 2 years old and she lived in the Colorado Springs area for most of her life. She and her mother owned a unique gift shop in Old Colorado City for many years.
Jolene moved to Fairbury over 20 years ago and she had several jobs over time. She managed the Dollar General store and worked at Lamberts Vet Supply before her love of reading led her to open her bookstore, Sisters, near the courthouse.
She was preceded in death by her parents, Jeniece (Sims) Henke and Alfred Henke and her brother, Bradley Henke. She is survived by her siblings, Alanna Cook and John Henke of Colorado, as well as her nephews and many cousins. Her cremains will be interred in Plainview Cemetery in Western. No service is planned at this time.
Jolene was a smart, caring and sassy woman with a great sense of humor and a contagious laugh. She loved animals, none more than her dachshunds, so in lieu of flowers she would say please donate to Countryside Veterinary Clinic or your favorite veterinarian. And hug someone you love.
Twinrivers