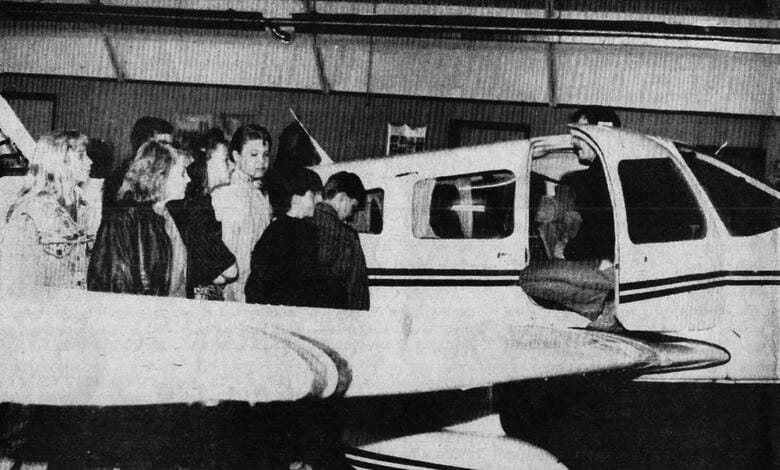 1888
The village of Thompson, first named Buckley, was founded on May 7, 1888.
1919
World War veterans organized locally, with E.S. Goodrich, E.A. Ackerman and Glenn LeRoy officers. A total of 491 men had gone to service form Jefferson County. It wasn't until 20 years later that this became World War I, to distinguish it from World War II.
1920
Van Buren & Son's elevator and flouring mill, located just east of the St. Joseph & Grand Island depot, was destroyed by fire.
The Morton-Hested show-case company was incorporated for $100,000. A plant was to be built at Beatrice as soon as $38,000 in stock was sold in that city. This was the predecessor to Store Kraft. W.B. Morton was manager of Hested's Beatrice store.
1930
The Fairbury Journal blamed the Federal Farm Board's policies for an 8 cent drop in the market for wheat in one day. Bert Kiesel and C.J. Spencer of Fairbury planned to open a store at Clay Center, Kan. Spencer had been manager of Kiesel's Golden Rule store here.
1940
Fairbury's FFA dairy products judging team was state champion. Team members were Oscar Bauer, DeVere Gerwick and Lawrence Gill, Kenneth Bonawitz received the State Farmer degree. G.T. Boone, chapter advisor, was made an honorary State Farmer.
The City of Fairbury electric department had a net profit of $5,000 in its first year's ownership of the Cornhusker Electric lines, reported G.E. Bell, utilities superintendent.
Purchase price in 1939 had been $90,000.
1950
Cast for the Fairbury Junior College play, "Grandpa Goes to College," included Barbara Dawson, Bill Doleman, Verneal Fasse, Luella Hellbusch, Ben Huncovsky, Mervin Knockc. Ed Kujath, Tommy Murphy. Pat Patterson, Margarite Reynolds, Dick Sims, Doris Washburn and Dorothy Watson, Homer Kelly was faculty director. Montie Lum student director, Bob Likens stage manager and Jim Herfkens advertising manager.
1960
Mrs. C.H. Brandes of Fairbury was honored on her 85th birthday, by her daughters, Phyllis Galloway of Seattle, Doris and Helen Brandes and son, Dean of Tockport, Ill. Daughter of the, Jacob Deins, she was born in f 1875 in the homestead sod house of her parents south of Powell.
1970
Bernard Correll resigned as manager of The Heritage of Fairbury to take a similar position at Central City. Stan Weber of Glen Ullin, N.D.. succeeded him here.
Garth Gibson paced FHS golfers to the Twin Rivers Conference title. Dean Fox, Mike Simpson and Gene Parks were other members of coach Ned Eckman's team.
Joseph Gasper, Jane Holloway and Charles Jack-man, all of Fairbury, won academic honors at Nebraska Wesleyan.
The Fairbury Women's Club elected Mrs. Paul Snyder president.
Fairbury Planing Mill women's bowling team won the Nebraska handicap championship. Team members were Mary Ann Larkins, Betty Shuck, Lorna Stauss, Marti Thrap and Lou Wilson.
1972
Fairbury citizens and organization planted 350 trees secured for them by the Fairbury Parks Board.
Fairbury's Future Farmers of America installed Greg Hansmire as president and Max Ruhnke as vice president.
The Nebraska Press Advertising Service elected Fairbury Journal-News Publisher William C. Nuckolls as president.
All-weather surfacing was installed at the junior college-high school running track.
The former Florence Hotel building, later the FJC women's dormitory, was torn down. The site had been bought by Fairbury Motors Inc.
1982
Only eight of the 79 survey forms returned on the proposal of the downtown development project favored the plan.
Tri County's team won the FFA judging title at the 20th annual Blue Valley Beef Revue. Members were Jeff Baxa, Kenny Niemeier, Kevin Yost and John Bergmeyer. Swingin Swingsters of Jefferson County, Debbie and Denise Endorf, Susan Kujath and Rachel Schafer–were 4-H team runners-up, Tom Filipi of Western won the showmanship award.
1992
Fairbury Mayor Lewis Mason was reminding residents who were supporting candidates in the upcoming election to make sure their political signs were not erected outside of the sidewalk area, which was considered government property. Failure to comply with the city code was cause for a fine and/or removal of the sign.
The Fairbury third and fourth grade Reading Classics team of Andrea Steele, Darci McGee, Jessica Scheuler, Russ Furwirth, Mikaleh Shultz, and Holly Heidemann placed first at state competition.
2002
John McKee, emergency management director for Jefferson County, was named the 2002 Outstanding New Management Professional by the Nebraska Association of Emergency Management. One of McKee's biggest achievements during the past year was a total revamping of the county's local emergency operations plan, including bringing all the county's communities and organizations together for a full scale tabletop exercise.
Kristi McGrath and Andy Kettelhut, both of Fairbury, were named United States National Award winners in history and government. The award is recognizes fewer than ten percent of all American high school students.
McGrath is the daughter of Larry and Lois McGrath of Fairbury and Kettelhut is the son of Dave and Sharon Kettelhut of Fairbury.
Fairbury Journal-News own sports reporter, Jim Phelps engagement to Lori Troxel was formally announced in the paper. They were planning a July wedding.
Fairbury was awarded the Tree City USA Award from Lt. Gov. Dave Heineman from the Arbor Day Foundation.
Twinrivers