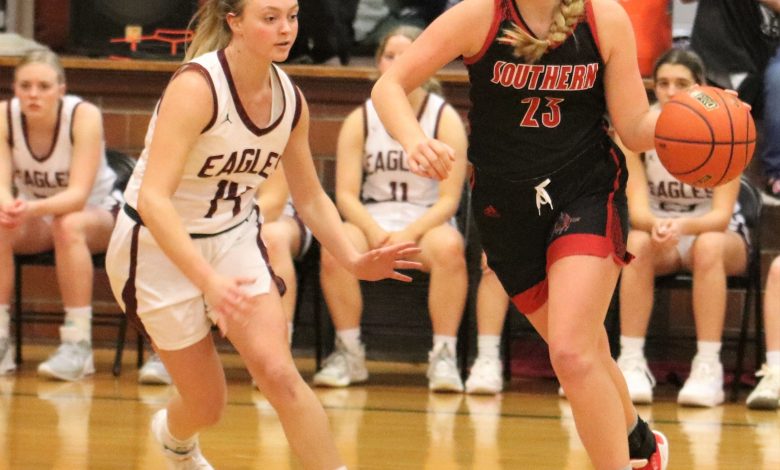 The first round of MUDECAS basketball for the Meridian Lady Mustangs was a route as their defense opened up the offensive opportunities in the 57-15 victory against Pawnee City.
The second round had Meridian going up against Exeter-Milligan with the opportunity to head to the championship on the line. It was a close one, but the lady Mustangs pushed through to win 40-35 and advance to the MUDECAS Division B Championship taking on Lewiston at 6:30 Friday, January 13.
The Tri County Lady Trojans were unable to get the shots to fall as the lost 22-42 to Palmyra in the first round of MUDECAS basketball on Monday, January 9 but will look to get things on track as they take on Humboldt-Table Rock Steinauer on Friday, January 13.
Southern's Lady Raiders struggled to contain Bruning-Davenport/Shickley as they lost with a final score 27-61 in the MUDECAS first round. Southern will be taking on Diller-Odell Friday, January 13.
The Diller-Odell Lady Griffins couldn't slow down Sacred Heart behind the arch losing 36-49 in MUDECAS first round.
For the boys, the Southern Raiders in the MUDECAS tournament took on Parkview Christian in the first round in a game that saw the Raiders fight to contain their opponents but were unable as they would lose 55-73. Southern looks to take on Sacred Heart on Saturday, January 14.
Meridian's Mustangs first round opponent was Pawnee City in the MUDECAS tournament on Tuesday, January 10 as the Mustangs couldn't keep pace with their opponents losing 29-57. Meridian will meet Sterling on Saturday, January 14.
In the first round of MUDECAS, the Tri County Trojans clashed with Johnson-Brock and came alive in the second half with the defense paying big dividends in the fourth, holding their opponents to only two points and by games end shooting 13-of-17 at the free-throw line was the difference maker to help the Trojans win 44-36. Tri County would move on to take on Freeman in the next round winning 43-35 to move on to the championship in Division A as they'll take on Parkview Christian Saturday, January 14.
Lewiston faced the Diller-Odell Griffins in the first round of MUDECAS basketball that saw the Griffins crash the boards with great determination as a team finishing with 36 rebounds in the 50-43 victory as they move on to go against Bruning-Davenport/Shickley. D.O. would be able to give a good fight but would lose 37-44. They will be taking on Exeter-Milligan in the third place game on Saturday, January 14.
Twinrivers