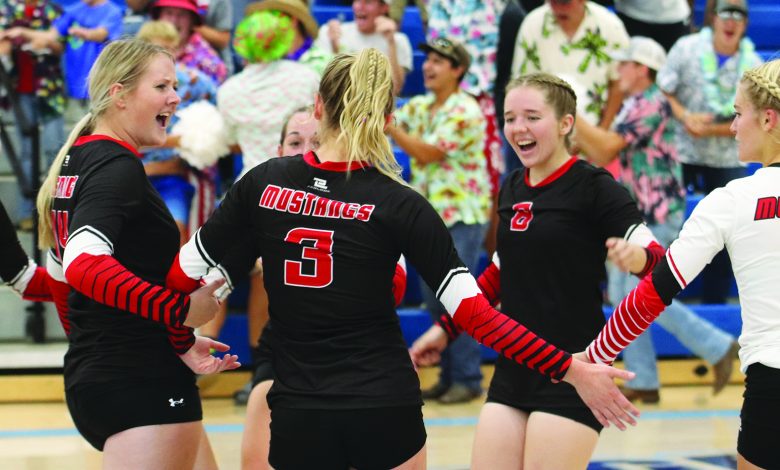 Two teams, one championship in a tournament that both teams have been familiar with in their school's history. For Meridian Lady Mustangs, the last time they were Mudecas Division B Champions was eight years ago going back to back in 2013 and 2014.
Tri County Lady Trojans, four years ago in 2018 finished as runners up and are looking to claim it this second time around. Whether it be either of the teams, described as tenacious, scrappy, or having a certain grit. Each would be accurate as each team has shown no quit in them during this season and more specifically this tournament. Meridian has been dominant from the beginning and shown no sign of slowing down as they've yet to lose a set in Mudecas thus far.
Tri County battled and went 2-0 against Lewiston, but would lose the first set 21-25 to H.T.R.S. That loss was seemingly a jolt of energy that gave them what was needed to bounce back to win the next two sets 25-22, and 25-23 to punch their ticket to Mudecas Division B Championship.
It wasn't without a fight, but when the dust had settled, it was Meridian raising the Mudecas Championship high winning 2-0 sets against Tri County. The Lady Mustangs would win the first set handily by a score of 25-10. The 2nd set however a much different story that found Meridian playing behind a majority of the set.
The deficit reaching four points at 16-20 when a timeout was called, and from that point Meridian took it to another level in taking no time to tie it up 20-20. The teams traded back and forth with the points to be evened at 21. Then the Lady Mustangs didn't look back and scored four straight points to be crowned Division B Mudecas Champions, 25-21. Meridian's offensive attack was thanks to the effort shown by Jaala Stewart who finished with 20 kills to lead the team.
McKenzie Hofstetter, Kaira Neiderklein, and Jaylee Sobotka each contributed two kills, while Schyler Schwisow and Taelyn Filipi each had one kill. Kaira Nierderklein led the way with facilitating the assists as she had 21 assists along with Kaylee Pribyl who had three assists. Pribyl also served up two aces and Bailey Holtmeier getting one ace as well. Defensively it was the trio of Kaylee Pribyl, Jaylee Sobotka, and Jaala Stewart each reaching the double digits in dig as Pribyl led the way with 23, Sobotka getting 14, and Stewart having 10. Meridian now has a record of 10-1 on the season.
For Tri County Lady Trojans runners up in the Mudecas Division B. Top performances came from Ella Clark reaching double digits in the kills with 11 with Melia Gronemeyer helping with those passes as she finished with 12 assists. Tri County would then go to the Fairbury invitational on Saturday September 17th for three games going 1-2. Losing 0-2 to Fairbury and Holdredge, but would in the last game against Sandy Creek with the sets going 2-0. Again Ella Clark reach double digits with kills this time with 10. Cassidy Thavanet was able to get six kills to contribute to the offense up front, and Thavanet also served four aces to lead the team. Kenzi Schercling was able to get three aces and Reagen Schwisow with two aces for a team total of nine.
The assists this time coming from the duo of Melia Gronemeyer and Addison Paxton each giving nine assist in the victory as Tri County would move to the record of 6-9 and will be hosting Diller-Odell for volleyball action on Thursday, September 22 with coverage from those games in the Friday digital edition.
Twinrivers