Local News
Wymore and Gage County Seek Disaster Relief Funds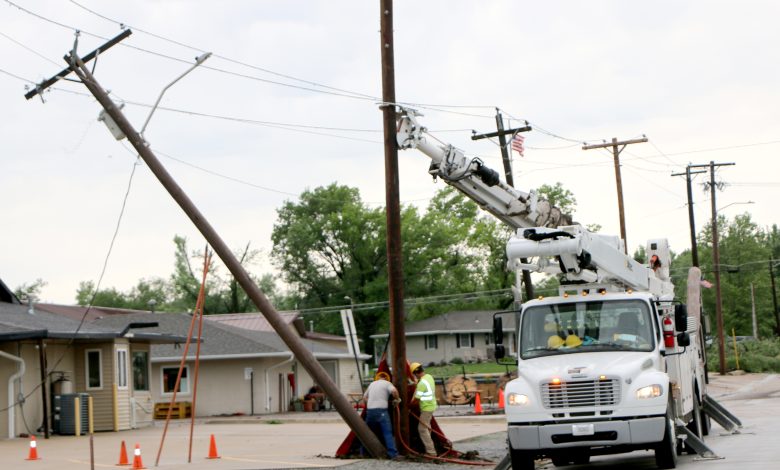 By Gordon Hopkins
Gage County Commissioners approved a disaster declaration at a meeting on Wednesday, June 15, for the weekend storms that devastated much of southern Gage County, including the Wymore and Blue Springs area.
Saturday evening, June 11, during the Sam Wymore Days celebration, the storm brought damaging hail, winds of up to 57 miles per hour and even tornadoes. One EF1 (Enhanced Fujita Scale) tornado, with peak winds of 104 miles per hour, was tracked from southern Gage County into northern Marshall County, Kansas, and confirmed by U.S. National Weather Services in both Nebraska and Kansas.
Disaster Declarations
On Monday, June 13, Gage County Emergency Management advised FJN, "Gage County and the City of Wymore have filed disaster declarations with Nebraska Emergency Management for damages received from tornadic activity, straight line winds and hail that caused damages to personal and public property, including public utilities infrastructure affecting the health and safety of the citizens."
A disaster declaration is a formal statement by a jurisdiction that a disaster or emergency exceeds the response and/or recovery capabilities. If approved, the declaration makes these areas eligible for government assistance to repair damage to public facilities, such as downed power lines and poles.
Gage County has been in touch with both FEMA (Federal Emergency Management Agency) and NEMA (Nebraska Emergency Management Agency).
According to Wymore Fire Chief Mark Meintz, in order to qualify for federal funds, the state would have to meet a threshold of $3.2 million.
"But then they would apply for the state funding from the governor's emergency fund," said Meintz. "For our town, we have to be over $88,000. Well, we're way over that."
Power Outages
Wymore City Superintendent Tim Sedlacek reported that, while not as bad as the storms Saturday night, another storm Sunday morning hampered efforts to get electricity back up and running.
"I think we were back to probably 60 percent with power," said Sedlacek. "The next day we ended up probably by 11 o'clock, we were probably back to 40 percent after that morning storm. Everything we fixed Saturday night pretty much got knocked down again Sunday morning."
As of press time, Norris Public Power District reported no power outages remaining in Gage County.
Helping Out
Storm damage was severe and several nearby communities provided assistance. Help came from the City of Fairbury, City of Auburn, Norris Public Power, City of Beatrice, City of Crete and others.
Fairbury City Administrator Robert Messbarger reported, "The City of Fairbury sent four trucks and four linemen Saturday night, three trucks and four linemen Sunday, and two trucks and three linemen on Monday. They assisted with repairs to Wymore's electrical infrastructure."
Fairbury Rural Fire was also in the area over the weekend.
Ken Krause, Fire Chief for Fairbury, told FJN, "We helped them with a lightning strike on a house over there. We did some fire activities there and a lot of wellbeing checks and tree removal so the streets could be used."
The cleanup continues. Individuals and businesses both local and from surrounding communities have also helped out, donating time and effort to clear away branches and provide food and water to those left without power.
Twinrivers