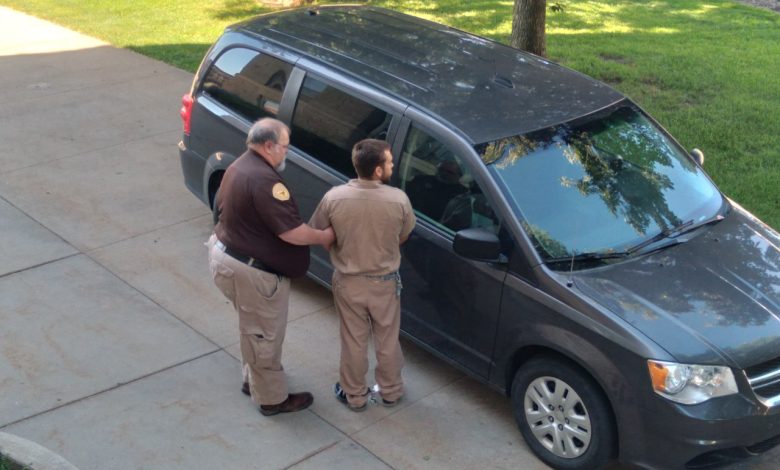 Dalton J.A. Meyer, 22, of Fairbury, was sentenced to one year in jail in Jefferson County Court on Wednesday, August 31, 2022. Linda Bauer was the presiding judge.
The defendant was originally charged with terroristic threats, a class 3A felony punishable by up to three years in prison, nine to 18 months of post-release supervision and a $10,000 fine; and third-degree assault, a class 1 misdemeanor punishable by up to one year in jail and a $1,000 fine.
In accordance with a plea agreement, Meyer pleaded No Contest to the assault charge and the felony charge was dismissed. County Attorney Joseph Casson agreed to stand silence at sentencing.
On April 4 of this year, at approximately 8:58 a.m., deputies were dispatched to a residence in Fairbury, in response to a possible assault. According to the Probable Cause Affidavit, the alleged victim, "stated that he (Meyer) punched her in the side of the head and broke her hand."
The deputy that filled out the affidavit reported seeing blood in the alleged victim's neck.
The alleged victim was the reporting party and she told deputies Meyer said to her, "he was going to kill her by cutting her throat."
The affidavit states, "Ambulance arrived on scene 1 attempted to leave the residence to search for Dalton and I was stopped by the neighbor who lived south of the residence. The neighbor advised that Dalton had run by his place and put a laptop computer in his garage. Deputies continued searching-for Dalton but were initially unable to locate him."
Deputies then reportedly received a tip as to Meyer's location. Meyer was found and arrested.
Meyer is represented by attorney Lee Timan, who told the judge at sentencing his client was "wanting to put this behind him and focus on moving forward."
Meyer is currently incarcerated at the Nebraska Department of Corrections, where he is serving a sentence for an unrelated case in Gage County.
The defendant was originally charged in Gage County in 2020 with operating a motor vehicle to avoid arrest and theft by receiving stolen property, both class 4 felonies, and driving under revocation, a class 2 misdemeanor. In accordance with a plea agreement, the charge of flight to avoid arrest was dismissed and Meyer pleaded Guilty to the remaining charges. Meyer was sentenced to probation.
After Meyer's arrest for the Jefferson County case, his probation in gage County was revoked. Gage County District Court Judge Rick A. Schreiner sentenced Meyer to two years in the Nebraska Department of Corrections, with credit for 74 days time served. Meyer was also ordered to pay $1,307.00 in restitution to the Gage County District Court on behalf of the victim.
Timan asked Judge Bauer to make the Jefferson County sentences concurrent, meaning at the same time, noting that Meyer may soon be available for work-release in Gage County. If sentences were made consecutive, meaning one after another, then Meyer would have to be returned to Jefferson County once his Gage County sentence was completed and thus interrupt his work release.
Judge Bauer agreed and sentenced Meyer to 366 days incarceration, with credit for 149 days time served.
Meyer was then remanded to the custody of the Sheriff's Office to carry out the sentence.
Twinrivers